If you are conversant with Arthur's memes, you will understand the funny pictures you are about to watch. They are so Hilarious that you may laugh and forget your ribs on the table. oops! Did I say table? Yeah of course on your dining table I mean to say. Now listen dude out there, here are some collections of Arthur's meme for you to watch with your friends, lover and family. They can bring you guys closer to each other than you can ever imagine.
you may also like to watch some of our previous memes such as 60 romantic memes for her or happy birthday to me memes and funny quotes.
So you want to enjoy the show? Now enjoy!
Arthur's Memes Fist-Arthur Memes DW
FACEBOOK OFFICIAL THANKS TO VIEWERS LIKE YOU
NIGGA ALL I DID WAS BUY A CAMERA AND PUT PHOTOGRAPHER IN MY BIO AND NOW THESE HOES FLOCKIN
KEEP TALKING SHIT AND SEE WHAT THE FUCK GONNA HAPPEN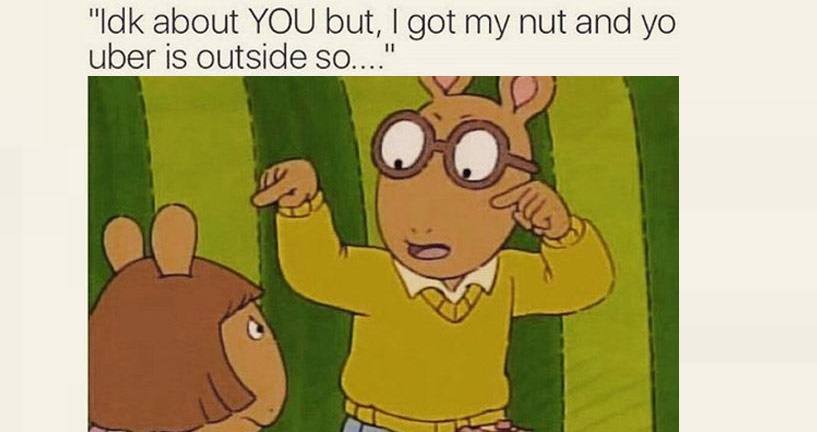 IDK ABOUT YOU BUT I GOT MY NUT AND YOU UBER IS OUTSIDE SO…
IN THE CASE OF 14MONTH OLD DEQUAN, YOU ARE NOT THE FATHER
Arthur Meme Generator-Arthur Fist Meme Generator
JUST BE LIKE YEAH WE COMING IF Y'ALL SO HOW U GETTING HOME HENNY.
IT IS STILL 55 DOLLARS PER SESSION, BUT HERE IS SOME FREE ADVICE EAT LESS
BRUH CALL ME IN 15 MINUTES AND ACT LIKE IT'S AN EMERGENCY SO I CAN LEAVE…
THEY FRIED ME BRO, THEY WAS LIKE HOW YO GLASSES SATY ON YO HEAD IF YO EARS AT THE TOP YA SHIT. EVEN THE TEACHERS WERE LAUGHING
MY GIRL ON THE WAY I DON'T WHY YOU STILL LAYING DOWN
I KNOW FRANCIENE'S DROWING. I KNOW SHE NEEDS MY HELP AND I'M PURE SCUM FOR STARING AT MUFFY LIKE THIS…
I DIDN'T CHOOSE THE THUG LIFE, THE THUG LIFE CHOSE ME
IT WAS AT THAT MOMENT ARTHUR REALIZED HOW MUCH HE'D UNDERSTAND THE SIZE OF BINKY'S LOAD.
Arthur Meme Hand-Cute Arthur Memes For You
RT @COOL_AS_HECK: WHEN U REALIZE THE ARTHUR MEME IS JUST THE GOV. DISTRACTING US FROM HARAMBE'S UNJUST DEATH
AYE BUSTER WHY U GOING IN YOUR BOOK BAG, BRO IS NOT EVEN THAT SERIOUS
WHEN HE INVITED YOU OVER TO NETFLIX AND CHILL BUT HE AIN'T GOT A TV.
FUNNY ARTHUR MEMES–YOU ALONE CAN SAY WHAT YOU SEE
HMM.. I'M NOT HERE, WHATEVER YOU READ THAT'S WHAT YOU READ
WHEN I GET TO TWITTER AND ALL I SEE ARE ARTHUR'S MEMES WHEN HE SAYS MAKE YOURSELF COMFORTABLE
WHEN SHE USED TO BE FINE BUT YEARS OF DRUGS, ALCOHOL, PARTYING, AND COMMUNITY…D….TOLL ON HER