Bad tattoos memes are collection of tattoos that look funny or strange on the skin. They are special kind of tattoos rather than the normal tattoos you know. The impression here is not to condemn the tattoos but just to make you laugh or entertain you. You can now feel free to watch our latest bad tattoos memes to make your day.
You may also like to watch our previous memes which are collected recently. You can watch 30 arthur's memes that can make you laugh and laugh
 Funny Bad Tattoo Failed 2017-World's Funny Bad Tattoo
FRIENDS DON'T LET FRIENDS GET BAD TATTOO
HUMAN OR A TATTOO? PLEASE WATCH IT ONCE AGAIN AND TELL ME WHAT YOU SEE LATER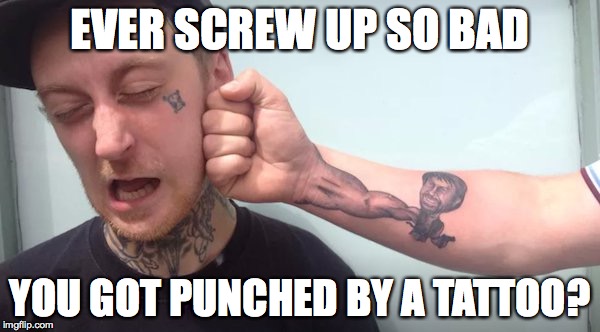 EVER SCREW UP SO BAD YOU GOT PUNCHED BY A TATTOO?
WHAT DOES IT MEAN, DON'T YOU HAVE YOUR PORTABLE BIBLE WITH YOU?
Hilarious Funny Tattoos Fails-Bad Tattoos Gone Wrong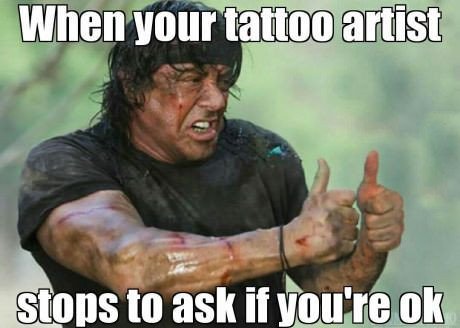 WHEN YOUR TATTOO ARTIST STOPS TO ASK IF YOU'RE OK
THEY SAY THAT'S IS A FANCY DINO….
YOU CAN NOW STUDY HOW TO SKETCH BAD TATTOOS IDEAS
CAN'T YOU SEE THE SPIDER CRAWLING ON HIS FACE? RUN AWAY DEAR
REGRET NOTHING, YEAH YOU CAN'T JUST REGRET YOUR HAND BEEN DRILLED WITH MACHINE
IS HIS HAND A PAGE OR WHAT' CAN I SKETCH ON IT TOO?
THIS IS HILARIOUS CAN YOU SEE WHAT I SEE? TWO MEN SHARING ONE BODY
FUNNY TATTOO THAT LOOKS SO BAD FOR YOU AND YOUR..HMM..WHATEVER!
WHAT A PIMPLES GALLERY WHAT ABOUT HIS MUSTACHE, A WRITTEN ONE RIGHT?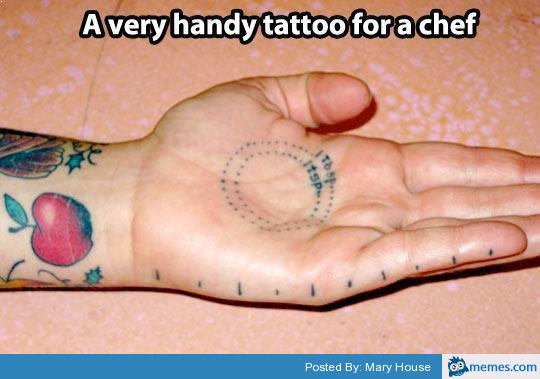 A VERY HANDY TATTOO FOR A CHEF
The World's Funniest Worst Tattoos Mistakes
I STILL CAN'T UNDERSTAND WHAT HE MEANS BY THIS..YOU CAN HELP ME UNDERSTAND, IF YOU WISH
WELL I THINK THIS MAN'S HAND IS THE NEW FLAT SCREEN TO SHOW THE TOILET HAPPENINGS!
OMG, IT IS WORST THAN NOTHING I WOULD RATHER HIT SLEDGE HAMMER ON MY HEAD!
IS HE ANGRY WITH SOMEONE OR WHAT? HEY DUDE, WHAT DID YOU DO TO UPSET JACKSON'S FATHER?
I THINK I DON'T NEED TO GO TO THE LIBRARY AGAIN, I HAVE FOUND ONE EVERLASTING ONE HERE!
YEAH, THIS IS A PEACOCK! I HAVE GOT ONE FOR YOU TO ENJOY D!